ECCMID 2023
April 15-18, 2023, Copenhagen, Denmark
ECCMID is one of the largest medical conferences in Europe and is held in a different venue every year. In 2023 ECCMID was held in Copenhagen in Denmark at the Bella center.
With over 16 session halls, 30 meeting rooms, 4 Arenas, 10 meeting boxes, the innovation theatre, a large poster area and a over 16.000 tickets sold, ECCMID 2023 was a vibrant event!
For the event, ECCMID used presentation management, the ECCMID app, live and on-demand streaming video, interactive sessions, room information and an overflow system. Multiple Wifi and specifically configured wired networks were configured and a thorough check of the inhouse quality and capacity of the network and internet was conducted. This made ECCMID a powerful event, strengthened by professional event technology and suppliers.
ECCMID relied, as in 2022, on Micemedia for all technical AV and IT preparation with the various suppliers and the venue.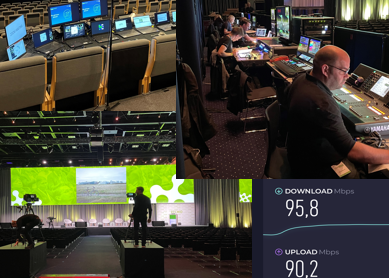 What Micemedia provided
Micemedia sourced the AV/IT hardware suppliers and a team of free-lance technical directors for the large rooms. With regards to IT, Micemedia discussed the network- and Wifi configuration with the venue and technical suppliers. All information was gathered and communicated to all parties involved so everyone was well informed.
Micemedia was, with regards to AV and IT, the key component for the ECCMID event. With a clear strategy and communication, the ECCMID organisation could fully concentrate on the event. All AV/IT software services were provided by K4Events.
Micemedia provided:
All AV/IT hardware suppliers sourcing prior to the event
All onsite AV/IT technical coordindation during build-up and event
Team of technical directors and AV/IT management in all halls and rooms
Support and input in setting up communication processes and webshop optimisation (IT)
A technical briefing document to provide all parties with the clear instructions and information.
Result
Micemedia's contribution for ECCMID 2023 resulted in smooth build-up, a flawless event, combined with tight budget management. This avoided onsite stress and additional cost.
Micemedia was the single point of communication for all technical questions and incident management. This resulted in a motivated and well-prepared team consisting of ECCMID, the suppliers and the venue. This enabled the ECCMID organisation to provide a great event to their delegates and the industry.
For any event, anywhere in the world
We love to hear from you and help you to your next successful event.