Sustainable Retail Summit (Consumer Goods Forum)
13, 14 October 2021, Paris, France
This year's event combined the virtual and the physical, allowing online and onsite attendees to connect and join fellow delegates wherever you are, and however you want.
The event offered a unique opportunity to learn how we can adapt our business models and take positive action today to shape the future of the industry, the planet, and its people.
Over the course of two days, delegates will learn first-hand how companies are taking positive actions to drive progress and overcome today's biggest sustainability and health challenges. Through a series of inspirational keynotes, plenary sessions, expert panels and breakouts, we will deep dive into the practical ways that we can accelerate change sustainably.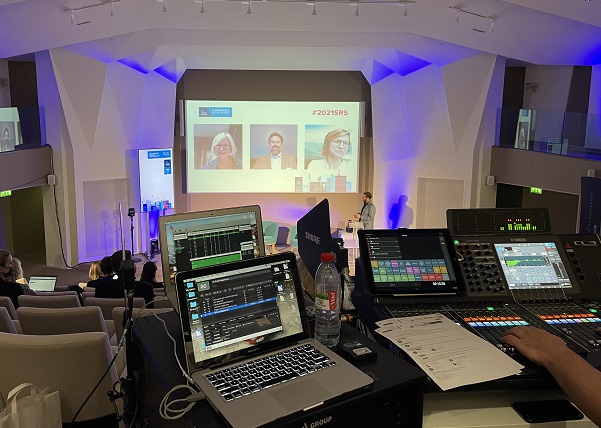 What did Micemedia provide
We provided several setups based on the requirements provided by the SRS team. As a hybrid event is actually a onsite and an online event combined it thus also makes it more complex. Micemedia provided the different setup and explained the various options and advantages/disadvantages of each option.
Onsite we provided all hardware for the audio and video registration as well as part of the room hardware such as lighting and team-communication equipment. A tight cooperation with the SRS, preparation and speaker instructions provided a setup with a very professional look and feel and ready to register, host and broadcast the two-day event.
Result
The result was a combination of an onsite event and a TV-show like setup onsite. The professional team of Micemedia, SRS and suppliers resulted in a great two day event with a high appreciation of the onsite attendees as well as the online attendees.
As all sessions were recorded, SRS will have the availability of valuable, interesting content to enjoy for a long time.. At least until …… SRS 2022!
For any event, anywhere in the world
We love to hear from you and help you to your next successful event.